Memorial Jewellery

Memorial jewellery, also known as remembrance jewellery, is a type of jewellery that is created to honour and remember a loved one. It allows individuals to carry a physical reminder of their loved one with them in the form of a piece of jewellery. This can provide comfort and a sense of closeness to the person who has passed away.
Working closely with our partners our in house team can create memorial jewellery in various forms, including:
Lockets: These can hold a small portion of the deceased's ashes, a lock of hair, or a small photo.
Cremation Jewelry: Specifically designed to hold a small amount of the deceased's cremated remains (ashes).
Fingerprint Jewelry: Impressions of the deceased person's thumbprint or fingerprint can be engraved onto the jewellery.
Photo Jewelry: This can include pendants or charms with a photo of the departed loved one.
Engraved Jewelry: Pieces of jewellery with engravings that may include names, dates, or meaningful messages related to the departed.
Birthstones or Gemstones: Incorporating the deceased's birthstone or a gemstone associated with a special memory.
Custom Designs: Jewellery can be custom-designed to represent something significant about the person being remembered, such as their favourite hobby or symbol.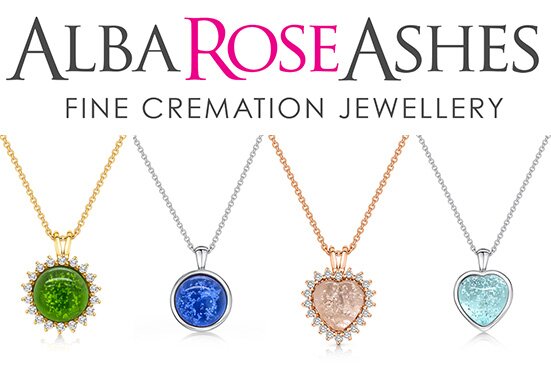 Alba Rose Ashes an independent UK family jeweller that specialises in cremation jewellery. Each piece is handmade with ashes encompassed within Murano glass and set within beautiful jewellery pieces. With over 50 years of craftsmanship, we treat each piece with care, love and respect as if they were our own family.

A laser is used to engrave the fingerprint image deeply on the item, which gives a very high-quality result. A layer of silver or gold plating then is applied as finishing touch.
Using modern technologies we take a digital scan of the fingerprint, which is then uploaded to our cloud system. A unique link can then be supplied to allow you to view all items available and place your loved ones fingerprint to see how the finish item will appear. This can be done from the comfort of your home, or if you would like us to assist you may visit any of our locations.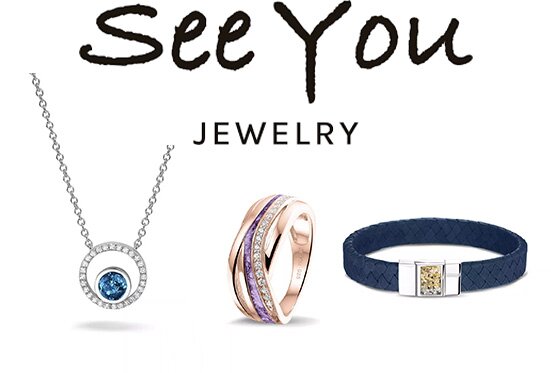 It all began in 1946, when Mr. Leurs Sr. started his own jewelry store in a small town called Panningen in the south of Holland, working as the neighborhood watchmaker and clockmaker. And over the decades that followed, the family business of Leurs Jewelry vastly expanded. His son Rob Leurs, educated in jeweler's craftsmanship both in Holland and abroad, then opening his own shop with his wife Marion in 1983. Rob introduced his designs for See You Jewelry in 2008, the unique line that was honored in winning the International Funeral Award. Rob and Marion's daughter Claire began working as the sales manager for See You Jewelry in 2014, overseeing business development and distribution to over 600 dealers. See You Jewelry is now available in Holland, Belgium, Germany, England, Scotland, Wales, and Ireland, USA, Czech Slovakia, Poland and Denmark.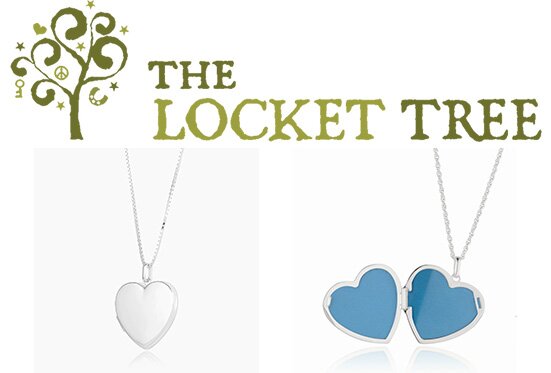 Established in 2013, The Locket Tree is the UK's leading locket online retailer.
We stock exclusively solid 925 sterling silver, gold and platinum lockets (we do not stock any plated or vermeil jewellery). Our wide range includes diamond and gem-set lockets, in styles ranging from classic and contemporary to vintage and nostalgic.

Lockets can be fully customised by our in-house team with photographs, message engraving and personalised gift wrapping. We also offer hair insertion, copying handwriting and copying drawings.

As a UK-based company we are able to offer a very fast turnaround and personalisation normally takes 1-2 days.

Download our Memorial Jewellery Brochure
(coming soon)