The distinctive Bristol Funeral Directors fleet consists of only the very finest burgundy Mercedes-Benz hearses & limousines. All vehicles are immaculately presented at all times and are, of course, maintained to the highest possible standards.
We understand that every funeral we arrange is unique and with that in mind we offer a diverse range of alternative hearses to accommodate a variety of wishes.
These include:
​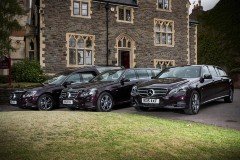 Traditional Horse Drawn Hearse
This type of hearse was traditionally used in Victorian times and takes us back to the bygone days of pomp and ceremony. It is now becoming increasingly popular with our clients and can often be seen on the streets of Bristol.
The well-groomed, black horses are dressed with Ostrich feathers to pull the immaculately maintained carriage.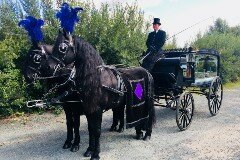 Vintage Hearse
Our beautiful and authentic, Austin vintage hearse was built in the 1930's and is available for funerals throughout the Bristol area.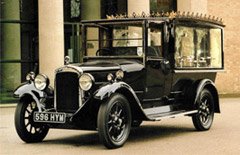 Motorcycle Hearse
Our selection of motorcycles and sidecars, for some, provides the perfect alternative to a traditional hearse.
We can offer a selection of motorcycle hearses including Triumph Adventurers or a Suzuki Hayabusa, which also happens to be the world's fastest accelerating hearse!